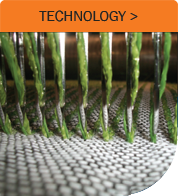 Turf Technology
We are dedicated to advancing the synthetic turf industry
Act Global is one of the largest turf manufacturers in the world with a production capacity exceeding 4 million square meters (over 43 million square feet). We focus on technology and quality through trained technical and production staff, manufacturing on four continents, and a dedicated research and development center. As the synthetic turf market advances, Act Global is committed to staying at the forefront of product development.
Leading synthetic turf manufacturer, Act Global

RESEARCH & DEVELOPMENT
Our ongoing focus on research and development ensures we provide the latest technology in turf
Vision to anticipate market needs and growing trends
Dedicated research facilities
New developments based on biomechanical standards
Natural grass benchmarks
COMPREHENSIVE TESTING
Our products undergo performance and quality testing at numerous stages of development to verify lasting performance and durability
Hundreds of independent laboratory tests conducted
Grass fiber testing: melting point, breaking strength, elongation, denier, thickness and width
Product testing: includes tuft bind strength, grab tear strength
Performance testing: to read shock absorbency (g-max), slip resistance, pill flammability and abrasiveness
UV and artificial weathering
Torture tests simulating high intensity and multi-year use
Incorpoarte user & client feedback
WORLD CLASS MANUFACTURING
As one of the world's largest producers of synthetic turf, we take quality seriously. Our artificial turf is expertly manufactured using carefully selected raw materials, the most modern machinery, and strict quality controls.
Four production locations
ISO 9001 Quality Certification
State of the art operations
Source the finest raw materials
Very competitive pricing due to quality controls and reporting
EXPERT INSTALLATION & MAINTENANCE
We work with a trusted network of partners around the world to provide long term quality and satisfaction.
Word-wide dealer network with installations in over 70 countries
Trusted maintenance partners to maximize lifetime performance of synthetic turf investment
Our goal is to provide long term quality and satisfaction
USER & CLIENT FEEDBACK
Through our involvement with reputable industry organizations and solid customer relationships, Act Global obtains continuous feedback regarding product performance and satisfaction.
User and client experience tracking
Obtain data and input from industry leading partners and organizations
Product performance records help forecast for future growth
Adjust product strategy based on client and market needs