Balancing System Components
Today's athletes demand more from their playing surface. The product must go beyond maintenance benefits or all weather playability. The artificial turf must carefully balance shock absorbency, low abrasion, speed, stable footing, traction and more.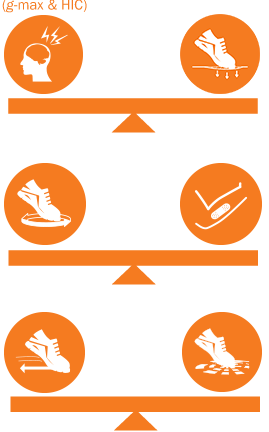 SHOCK ABSORPTION & VERTICAL DEFORMATION
We must maximize shock absorption while limiting vertical deformation. This proper balance can improve foot stability, prevent ligament stress, and reduce player fatigue and injury.
TRACTION & SKIN FRIENDLY
Our top quality fibres offer both softness and durability, while optimal yarn distribution and infill levels improve surface to foot interaction.
DECELERATION & SLIP RESISTANCE
A surface must allow players to start and stop quickly and safely in a fast paced game.
Request Xtreme Turf information